Camellias Dream
Regular price
Sale price
$12.95 USD
Unit price
per
Sale
Sold out
Shipping arrives between 2-7 business days

30 days returns details, see more.

Get free delivery restrictions apply see more
View full details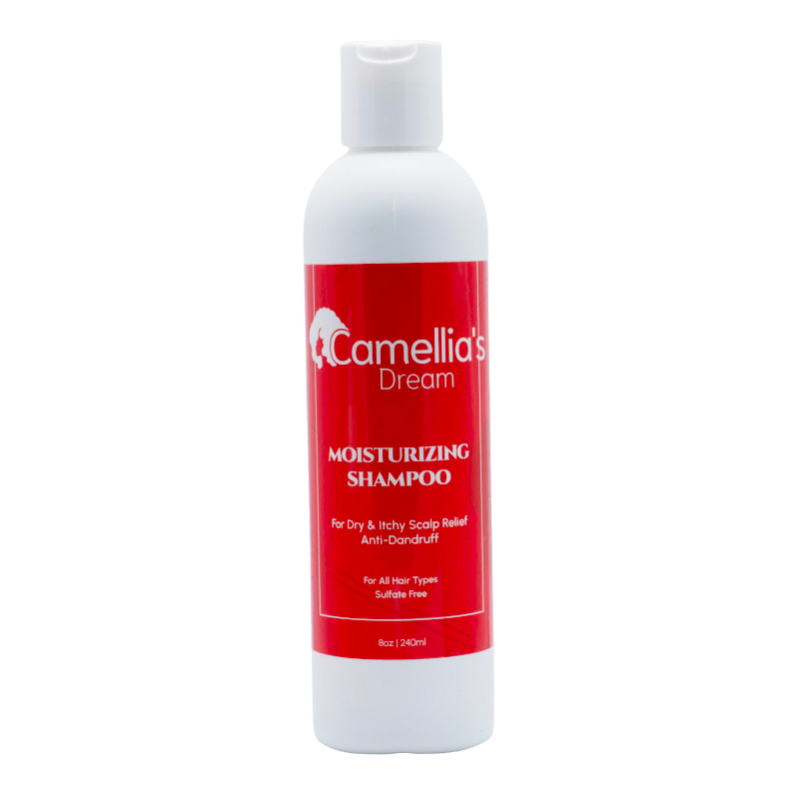 About this product
Specifications

Brand: Camellias Dream
Hair type: All hair types
Hair care key benefits: For dry & itchy scalp relief anti-dandruff
Dispenser style: Plastic dispenser
Assembled product dimensions: Light, small. 8oz 240ml.
Product details

Live dandruf and itch-free with Camellia's Moisturizing Shampoo for Dry & Itchy Scalps.
Our professional formula ensures deep moisturization and cleaning.
Eliminate flakiness today!

Once upon a time, in a lush and verdant land called Indonesia, there lived a people who were blessed with an abundance of natural resources. Amongst these treasures were the many herbal plants that dotted the countryside, each with its own unique properties and benefits.

One such plant was the green tea leaf, or Camellia sinensis L. to give it its scientific name. The people of Indonesia had known for centuries that this humble leaf held within it the power to promote healthy hair growth.

You see, green tea leaves are rich in flavonoids - powerful antioxidants that work to nourish and protect the hair from damage. And it was this knowledge that led the people of Indonesia to create a special tonic, made from the leaves of the green tea plant, to help those suffering from hair loss and baldness.


For many men and women, hair loss and baldness can be a source of great distress. It can be caused by a variety of factors, such as physiological conditions, emotional and physical stress, lack of nutrition, hormonal disorders and even certain drugs. But unlike synthetic products like Minoxidil, which can cause side effects like sensitivity to the scalp, the herbal tonic made from green tea leaves was gentle and effective.


And so, the people of Indonesia continued to use this tonic, passed down through generations, to keep their hair thick, strong and healthy. And as they looked upon their lush, green landscape, they knew that the secret to their beautiful hair lay right there, in the leaves of the Camellia sinensis L. Moral of the story, nature has provided us with all the solutions to our problems, we just have to be wise enough to use it.


 
Directions for use

Apply shampoo to wet hair and create a soft lather. Gently massage the sud into yourt scalp. Rinse and repeat as necessary. Use alongside Camellia's Moisturizing Conditioner for even better results.
Ingredients

Water, aloe barbadensis leaf juice, disodium laureth-3, sulfosuccinate, cocamidopropyl betaine, cocamide MIPA, glycerin, sodium cocoyl isethionate. Cetyl Alcohol, Zinc Pyrithione, Menthol, Piroctone Olamine, Pyrus Malus (Apple) Fruit Extractum Citrus Limon (Lemon) Peel extract, Camellia Sintesis Leaf Powder, Fragance/Parfum, Quaternium-80 Propanediol, Polyquaternium-10, Coprylyl Glycol, Phenoxyethanl, Tetrasodium EDTA, Citric Acid, Benzyl Salicylate, Hexyl Cinnamal, Linalool Blue 1 (CI 23090)
Caution

- Avoid fire, flame or smoking during application and until hair is dry.
- Content is combustible.Avoid spraying in eyes.
- Avoid getting into eyes.
- If contact with eyes occurs, rinse thoroughly with water.
- For external use only.
Similar items you might like
Camellia's dream surprise!
I have been using Camelias Dream for the past 3 weeks. Now, my once dry hair is moisturized and smelling great. My hair has more body than I have seen in a long time. I like it very much. I will continue to use this whole product line. Thank you Camelia's Dream.
Works great
Works great. I have dry curly, frizzy, highlighted hair. The product has a lot of hydration. But doesn't weigh it down. Price is also a great value.
My daughter's hair shines.
This makes my daughter's hair shine.
Smells good
Smelled amazing and cleaned really well but dulled my hair and was a bit drying.